HO-DK017- White and Natural Decking tiles, garden solid Acacia wood flooring
* Natural & White -12 slats*
Wooden decking tiles, wood look tile, Home24h offers a large selection of tiles that from wood to give you that wood floor look and offers durability at an affordable price.Tile in the Flooring Department at Home24h co,.ltd. We can simply choose the one that suits your taste and ideas best.
Outdoor Deck Tiles, Garden Solid Acacia Wood, Flooring Tiles with plastic base.
Size: 300 x 300 x 24mm
Packing: Carton / Pallets
CONTAINER LOADING:
9 Pcs/ Carton: 20"DC – Loading around 11,340 pcs ; 40"DC: Loading around 22,680 pcs
10 pcs/ Carton: 20"DC – Loading 12.600pcs ; 40"DC-loading 25,200 pcs
Net Weight 0.75kg per pcs / Gross.Weight 9-12 kgs per ctn
Origin: Made in Vietnam
Useful: it is suitable with everywhere in the house, special for balcony, garden and bathroom. It is strong, easy to move to anywhere in the house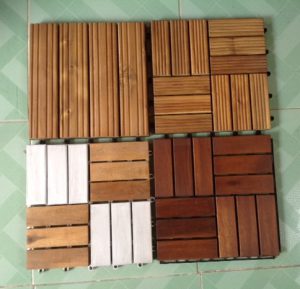 CONTACT US NOW!
EMAIL: Sales@home24h.biz
WeChat / WhatsApp / Zalo : 84 906.631.681
Skype: Home24h.biz
Call us: 84 906.631.681 (Office) / 8428 3636 8625 (warehouse)