1. Product Feature: 
Material: Seagrass / Color: natural
Uses: Planting baskets, flower arrangements, home decoration…
Product Description
Rustic beauty, natural, environmentally friendly.
Meticulous knit lines, bring beautiful durability over time.
Easy to clean, save time.
Usage Notes
The natural material sedge basket, even though it has been processed, will also be susceptible to mold when the storage conditions are not good.
Store in a cool, dry place after use. If it gets wet, it can be sun dried or dried.
2. Usage:
Depending on the usage of each person, it can be used to build dirty clothes or personal belongings such as teddy bears, toys, books. You should put it in the corner of the house or in front of the bathroom door to make it easier to store and decorate your house more beautiful. With seagrass material but natural color, compact size, you can put it in many other locations.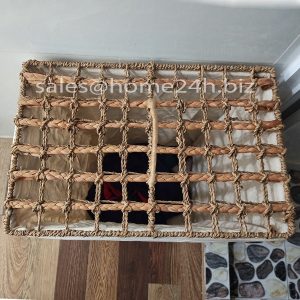 .
NATURAL SEAGRASS  LAUNDRY HAMPER  – HO-3041/2
3. Why Should You Place an Order?
High quality, reasonable price and prompt delivery.
Mixed orders, small orders or combined orders with other factories is accepted.
More orders, cheaper price.
We have the independent export right.
Various designs and various types, sophistication and customization.
Colors, sizes, styles and logos of customers are accepted.
Simple styles, tidy and comfortable.
100% handmade weaving, full range, fashionable, durable and high practical value.
We can make your samples easy and fast with the short time 7-10 days.
Packaging and labeling is suitable with export standard or as customer special requirement.
4. PRODUCTION IMAGE